The following are programs currently offered at BGHS to encourage and recognize academic achievement. Most are accumulative, and interested students need to be aware of the requirements beginning their freshman year. Questions concerning any of the programs should be addressed to a school counselor.
GRADUATION WITH DISTINCTION
In a continuing effort to promote student achievement and seek innovative ways to motivate students to do their best, Beech Grove High School is offering students the opportunity to graduate with distinction from any department within our high school. Each department has created its own requirements to earn this honor, and these requirements are noted at the beginning of each department's class list. Those who earn this distinction will receive a certificate and special recognition during the graduation ceremony.
RENAISSANCE
The mission of BGHS RENAISSANCE is to promote and reward excellence by BGHS students. All students at our school are part of this program. Students can earn recognition and rewards in four main areas: academics, attendance, attitude and achievement.
NATIONAL HONOR SOCIETY
Those students interested in membership in the National Honor Society the second semester of their junior year must have a cumulative GPA of 3.25 for their first 5 semesters of high school. Participation in school activities is also required. Other requirements and complete explanation of the Honor Society procedure may be found in the Student Handbook.
ADVANCED PLACEMENT PROGRAM
Students enrolled in AP classes may take the corresponding AP exam for possible college credit. Any student who excels in a particular subject may qualify to sit for the exam in that area. Details may be obtained from the teacher of the specific course or from Mrs. Addington. A comprehensive description of AP courses can be found on the College Board AP Central Course Description web page at: https://apcentral.collegeboard.org/courses.
ACADEMIC WALL OF FAME
This showcase is located in the main lobby just outside the auditorium. Students earning straight A's will be honored with their pictures displayed in the showcase. A list of those on the honor roll will also be featured.
DUAL CREDIT
The mission of the dual credit program is to provide opportunities for students to engage in rigorous, college-level work while earning both a high school credit and a transferable college credit. Students may qualify to enroll in dual credit courses with qualifying PSAT scores, ACT/SAT scores, and/or ACCUPLACER scores. BGHS offers a wide variety of dual credit courses through various institutions, so check out the curriculum guide for specific details. Please see Ms. Thomas for more information. There are numerous benefits in taking dual credit courses, so students should take advantage of this opportunity!
OUTSTANDING STUDENT AWARD
Each department chairman presents this award to the top student within his/her department. These awards are presented during the Honors Night program in May of each school year.
Class rank will be computed at the end of each semester beginning with the first semester of high school and ending with the 8th semester (7th for mid-term graduates). It will be based on the average cumulative GPA from semester grades. All students are ranked by cumulative GPA at the end of each semester. Selected courses are weighted to emphasize strong academic achievement. Weighted courses are noted on the school profile (typically courses falling into the Honors, AP, or Dual Credit categories).
COURSE LOAD & ATTENDANCE REQUIREMENTS
s, grades 9-12, are required to attend classes the full 8-block schedule. Freshmen and Sophomores must carry 8 classes for credit. Juniors and Seniors must carry a minimum of 7 classes for credit. Transfer students may be scheduled with fewer classes depending on their time of enrollment. Every student at Beech Grove High School will follow a Career and Technical Education Pathway (CTE) to ensure an in-depth exploration into college and career opportunities. Additional requirements are as follows:
Freshmen are required to take Principles of Business Management. Freshman are also required to make a choice between Principles of Agriculture or Principles of Computing.
Sophomores are required to take Principles of Human Services.
Students each year will work with their school counselor and iSucceed Advisor to select directed electives that best align with their current chosen pathway to provide experiences and enrichment in each students' interests
EARLY GRADUATION: The Indiana Department of Education has stated that, if all requirements are met, a student may graduate prior to their 8th semester. Any Beech Grove student wishing to graduate early must make this known to his/her counselor when senior schedules are completed in the spring of the junior year. Arrangements will have to be made to take one semester of senior English at another site as both semesters of senior English are not available first semester. Students wishing to complete high school early will be required to submit an application that will be reviewed by the Guidance Council.
NOTE: We will always try to be flexible in dealing with extenuating circumstances, but the only way students may be assured of the privilege of graduating early is to plan ahead and make these arrangements prior to the beginning of their senior year.
INDIANA C40, AHD, & THD REQUIREMENTS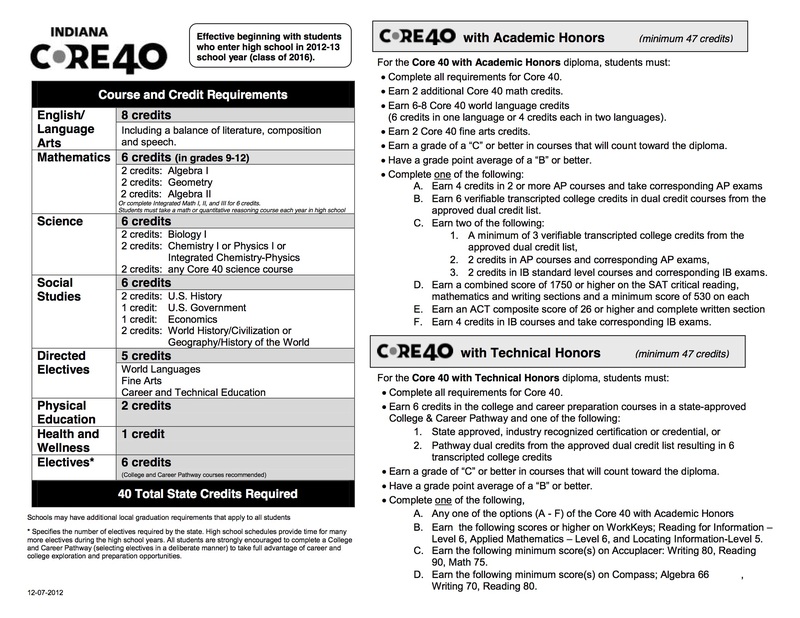 Opt-Out Process for Indiana's Graduation Requirements Indiana Code 20-32-4-7,8,9,10
Beginning with students who enter high school in 2007–2008, the completion of Core 40 becomes an Indiana graduation requirement. Indiana's C40 curriculum provides the academic foundation all students need to succeed in college and the workforce. To graduate with less than C40, the following formal opt-out process must be completed at the High School with a Counselor or Administrator:
The student, the student's parent/guardian, and the student's counselor (or another staff member who assists students in course selection) meet to discuss the student's progress.

The student's career and course plan is reviewed.

The student's parent/guardian determines whether the student will achieve greater educational benefits by completing the general curriculum or the Core 40 curriculum.
If the decision is made to opt-out of C40, the student is required to complete the course and credit requirements for a general diploma and the career/academic sequence the student will pursue is determined.

Core 40 Triggers
The following conditions may trigger a discussion about opting-out of Core 40:
A parent may request that a student be exempted from the Core 40 curriculum and be required to complete the general diploma to graduate

The student does not pass at least three (3) courses required under the Core 40 curriculum,

The student receives a score on the graduation examination that is in the twenty-fifth percentile or lower when the student takes the graduation examination for the first time.
In each case, the student's parent and the student's counselor (or another staff member who assists students in course selection) shall meet to discuss the student's progress. Following the meeting, the student's parent shall determine whether the student will achieve greater educational benefits by: 1. Continuing the general curriculum; or 2. Completing the C40 curriculum.