Have you heard about ACCESS PASS? "Access Pass allows Indiana families who receive Commodity Supplemental Food Program (CSFP), Healthy Indiana Plan (HIP), Hoosier Healthwise Insurance, Supplemental Nutrition Assistance Program (SNAP), and/or Temporary Assistance for Needy Families (TANF) to pay $2 for general admission to visit 13 cultural attractions and 11 historic sites in Indiana such as Bellaboo's, Indiana State Museum and Historic Sites, and many more on any day of the year." Check it out!!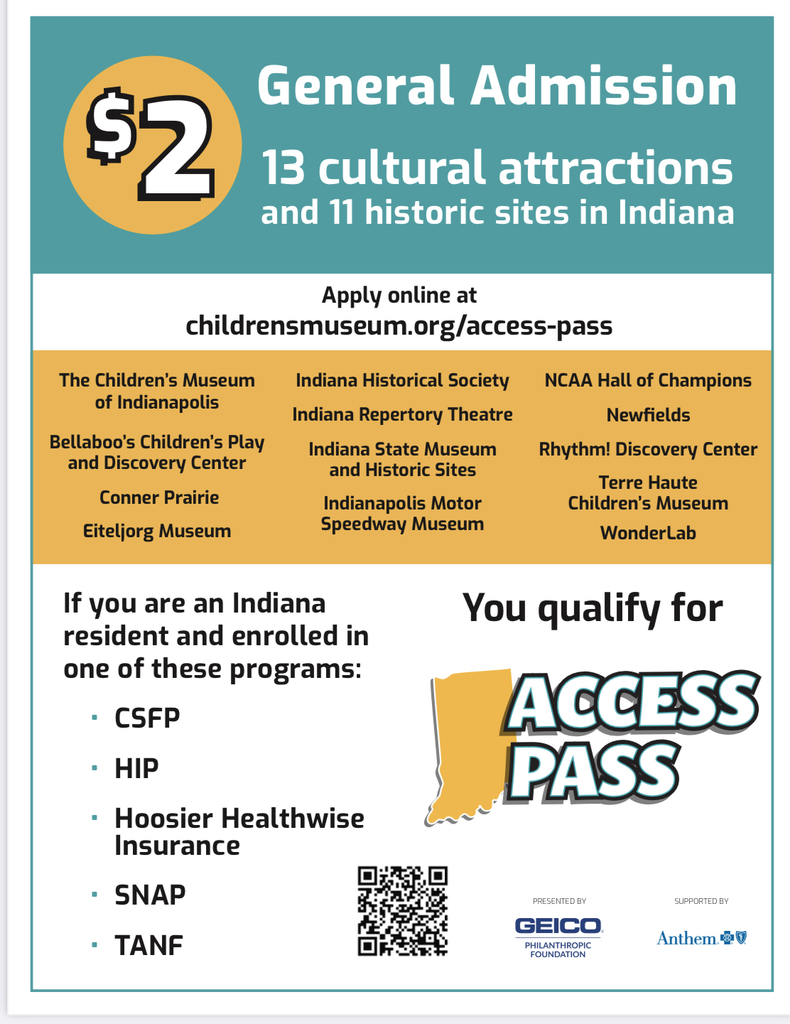 Our first MULTILINGUAL FAMILY NIGHT for the 22-23 school year is Wednesday, August 17th from 6:30pm - 7:30pm at Hornet Park Community Center. Please see the invite below as well as a QR code that can be translated upon opening. We can't wait to see you there! #family #together #HornetProud 🧡🖤🧡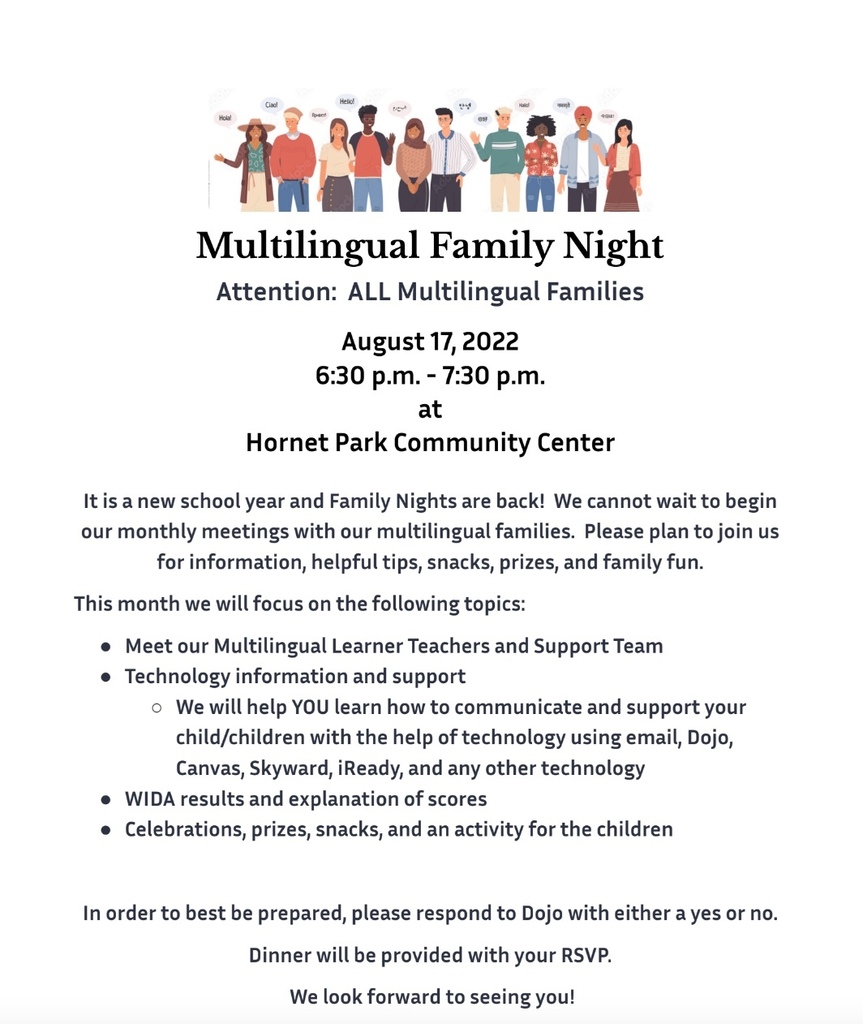 Reminder: The City of Beech Grove and the Mayor's Faith Based Roundtable are hosting a "Peace Walk for Marion County" this Saturday, July 30th. The event starts at 10:00am at the Franciscan Trailhead in Sarah T. Bolton Park. #TogetherWeCan #BeechGroveProud #WeB4Me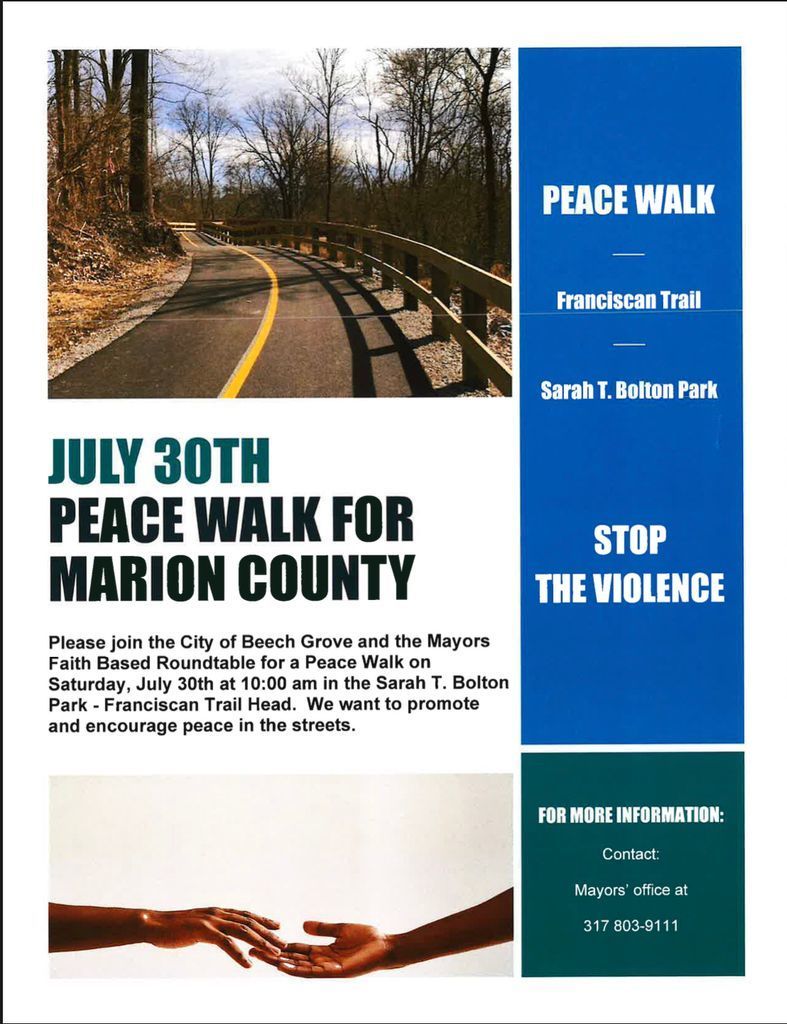 Want to join the HORNET family but need flexibility in your schedule? Become a substitute teacher! We are hosting a hiring event TOMORROW in the lower level of the administration building!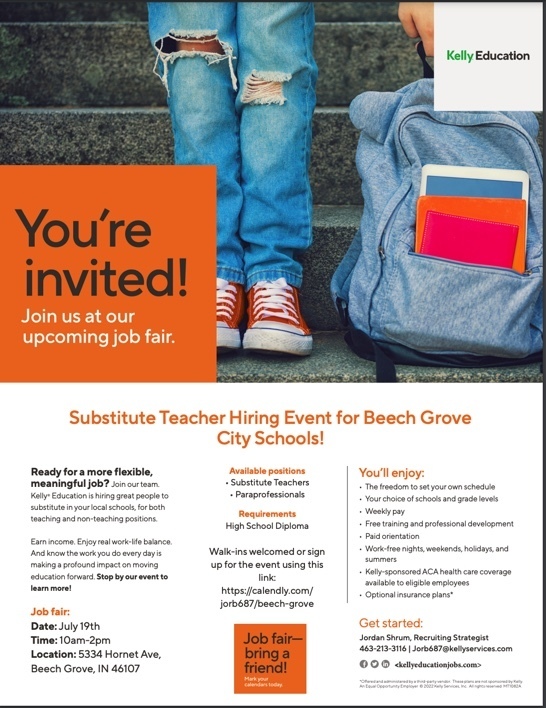 Don't want to make dinner tonight? Head on over to Papa Murphy's on Thompson and grab a pizza!! Just tell them it's for BEECH GROVE! Enjoy your last few days of summer!!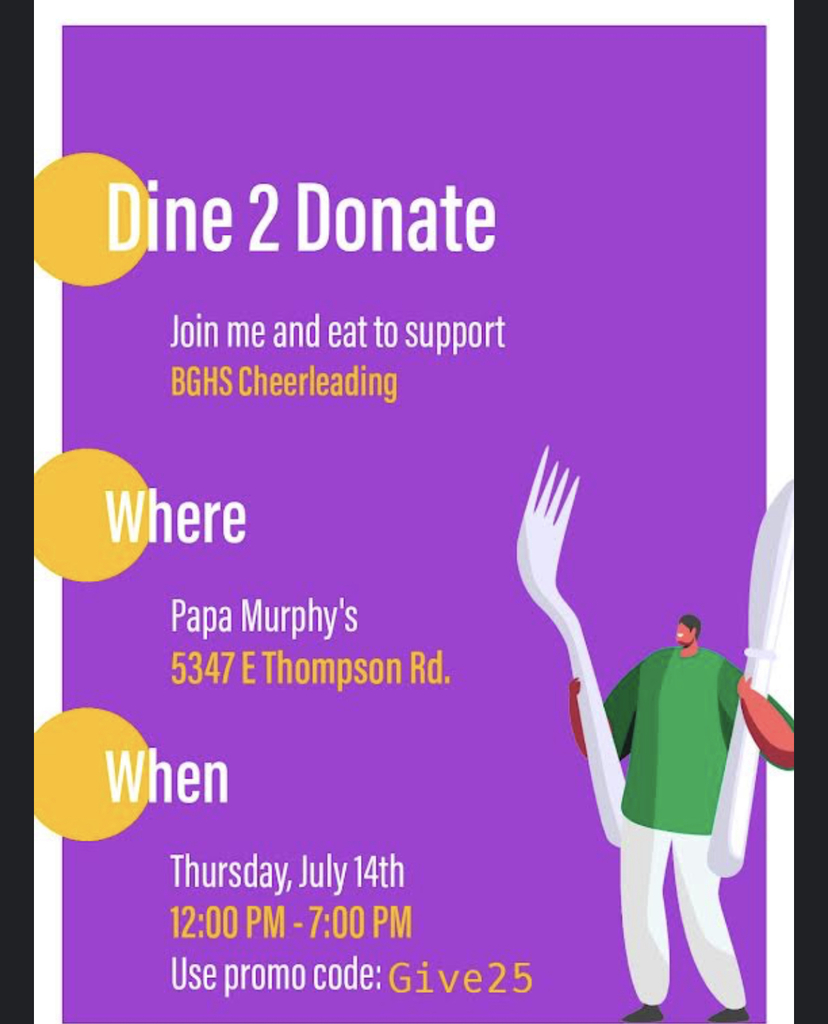 Want to find all the back-to-school information in one location? Check out the newest edition of the HORNET BLAST!! Still can't find what you need? Check out the contact section with all the phone numbers! We can't wait to get you all back!!
https://www.smore.com/0rd8yj
HORNET HIGH SCHOOL PARENTS/GUARDIANS 🧡🖤🧡: Please find below some important information for incoming BGHS students! Orientation: ✏️🚌 We will be running two orientations on Thursday, July 21st for incoming 9th graders and new students. The first orientation will be from 12pm-1pm and the second orientation from 5pm-6pm. Administrators will speak to families for the first 15 minutes. Following that, students will have time to explore the building. Senior Pictures: 🎓🎓 We will be hosting senior pictures with Strawbridge Photography on Wednesday, July 20th (9-3) and Thursday, July 21st (12-6). Information on how to sign up will be sent to the students' BG emails. Students will be signing up for 10-minute time slots. The location for the pictures will be the drama room (located in the music hallway). Additional questions? Call the high school at 317-786-1447
HORNET NATION🧡🖤🧡: If you still need to register and would like to do so in person, please find the dates/times attached. Questions? Here are the phone numbers for each building: Hornet Park: 317-780-5050 Central: 317-784-4565 South Grove: 317-786-7687 BGMS: 317-784-6649 Administration: 317-788-4481 We can't wait to see you!!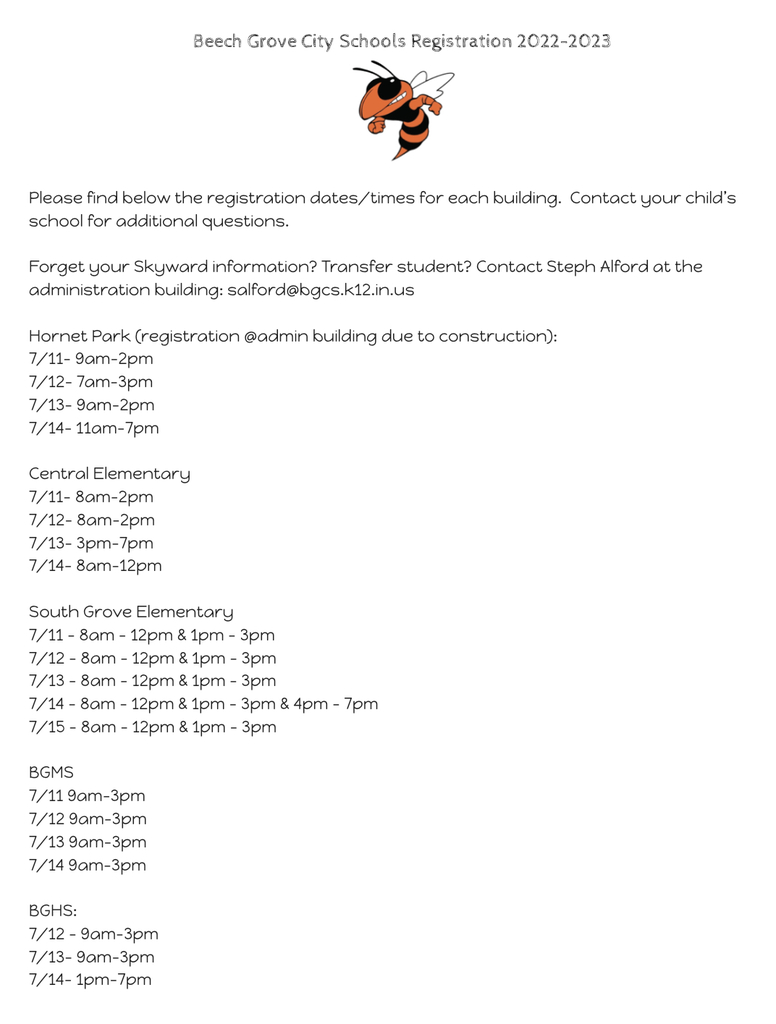 Save the dates for our BACK-TO-SCHOOL nights: Hornet Park: July 26th 4-6pm Central Elementary: July 26th from 4-6pm South Grove Intermediate: July 27th 5:30pm - 7:30pm* Beech Grove Middle School: July 25th 4-7pm Beech Grove High School: July 25th 4-7pm *South Grove has structured sessions, so please plan to come at 5:30pm and stay for all of the fun and great information!
Happy summer, HORNETS!! We can't wait to see! Still need to register for the 2022-2023 school year? See the image for more information including dates and times. This was also sent via Skylert to your email if you chose to be a part of the alert system. Stay safe!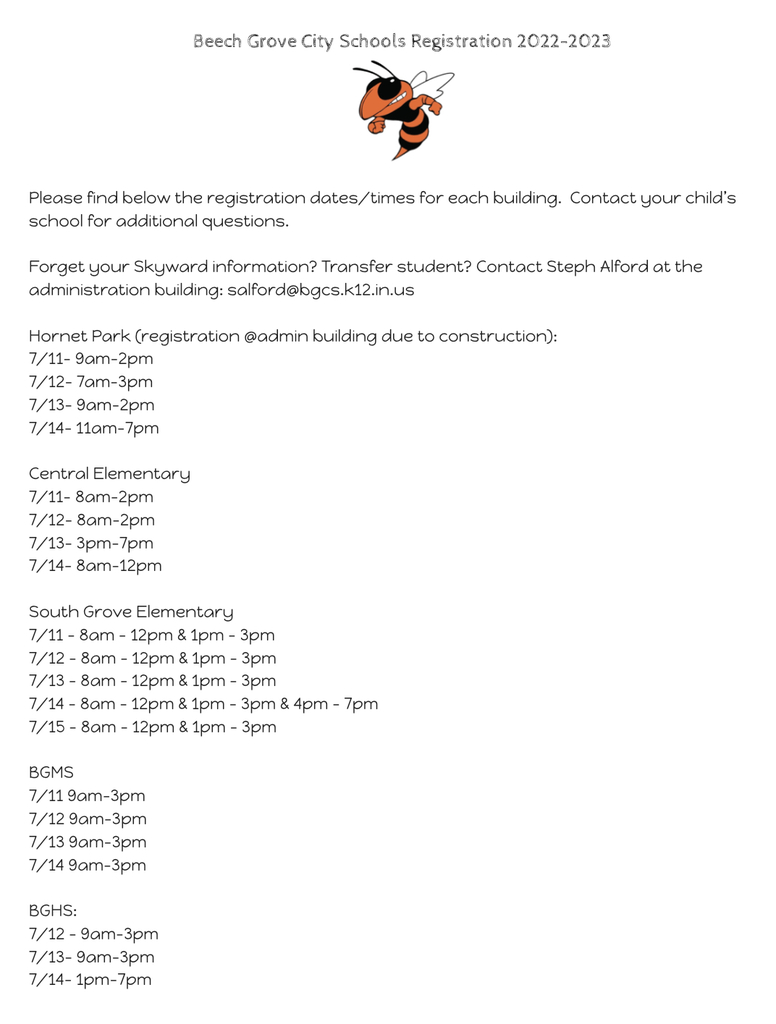 Don't miss this EXTRAORDINARY event ONLY for BGCS students! Come to the middle school on July 16th for FREE backpacks and school supplies. #blessed #family #bettertogether #HornetProud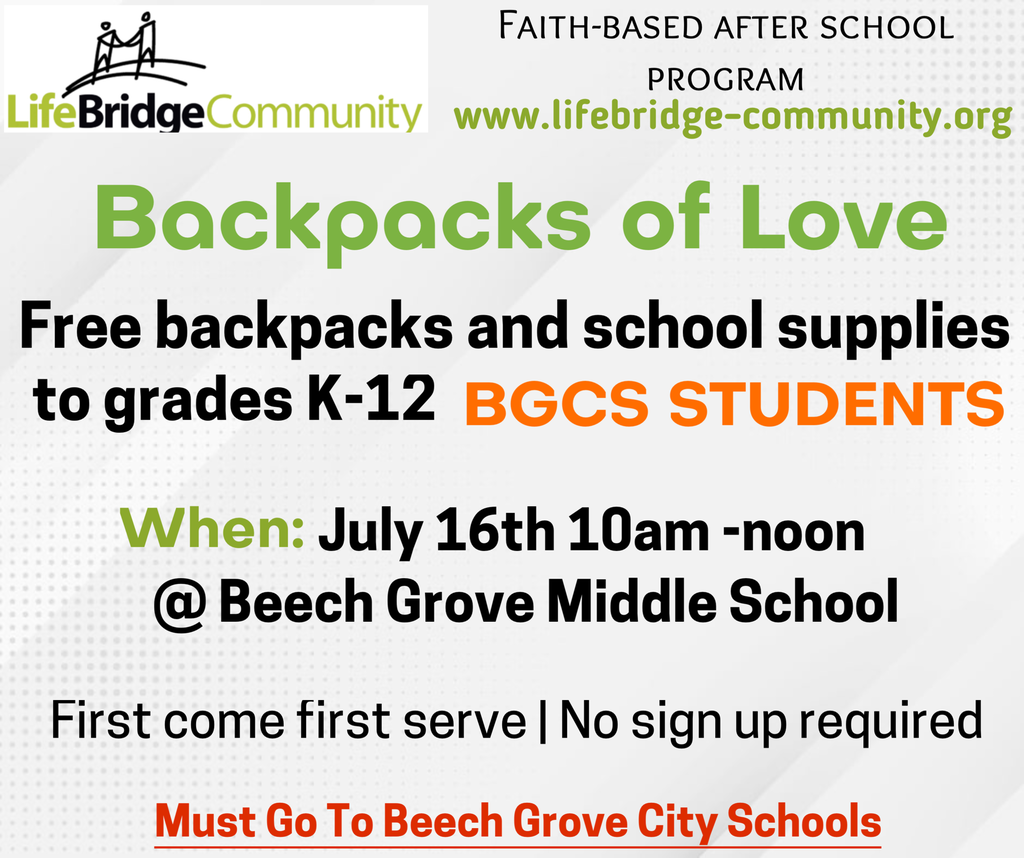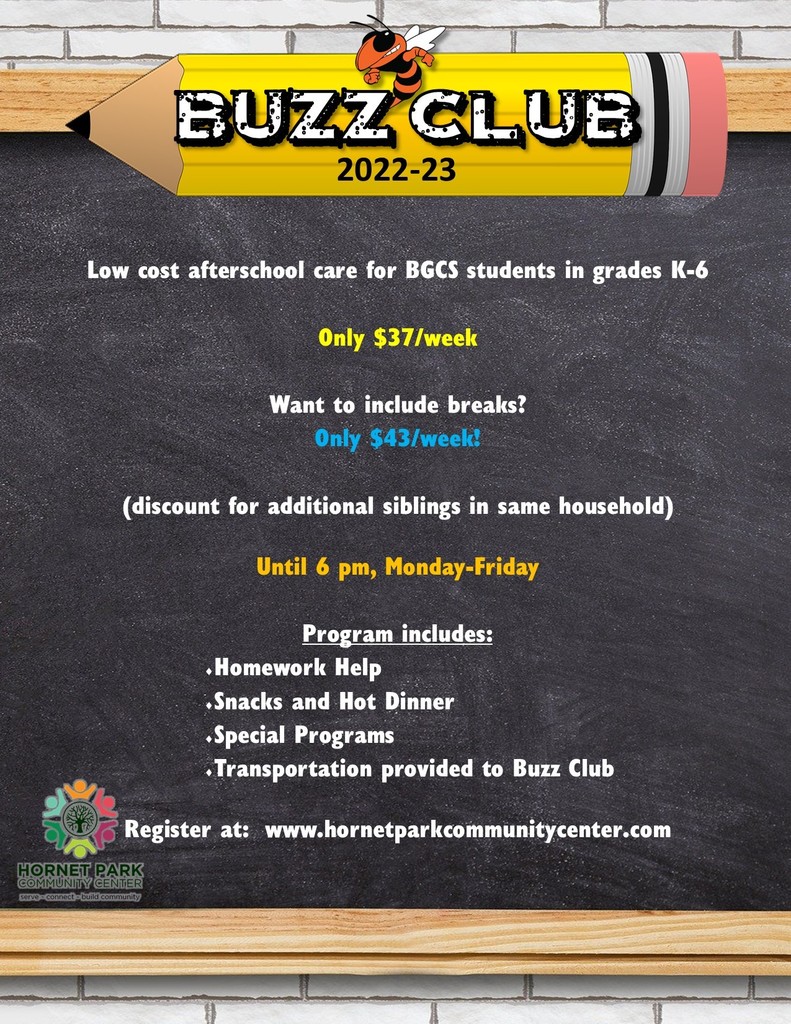 ATTENTION: Parents and Guardians, Please check your email for an important message outlining the changes to the previously implemented nationwide waivers for federally funded meal programs. See also the images below for more information. You can find the application link here:
https://www.myschoolapps.com/Application
For additional questions, please contact Dulcie Holcomb, Director of Dining at (317) 786-1447, ext. 8313 or by email at
dholcomb@bgcs.k12.in
. Have a wonderful weekend!!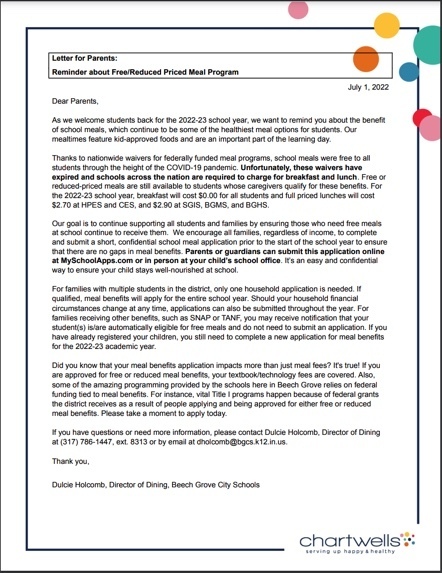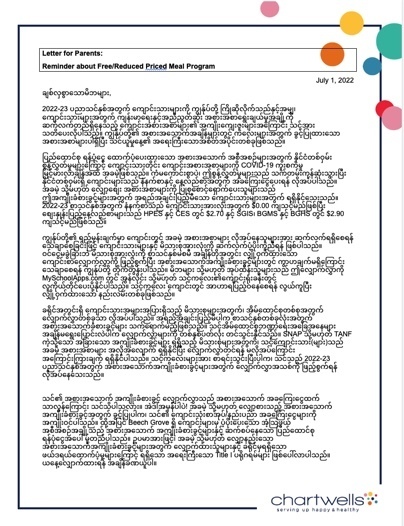 Yes, you're seeing this correctly.....a FREE wrestling camp for kids preK - 8th grade. Limited space is available so sign up today! #HornetProud #Family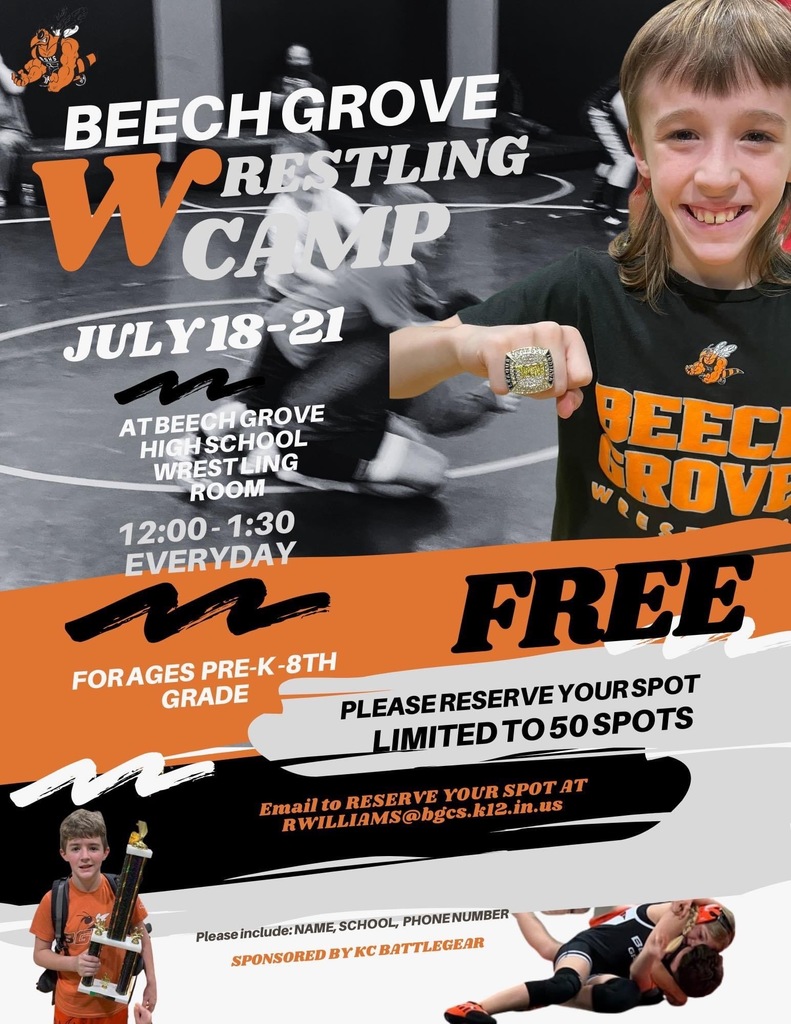 Here is an EXTRAORDINARY opportunity for us all to do our part in encouraging peace in our streets. Please mark your calendars TODAY!! #HornetFamily #ForOurKids
The FOOTBALL🏈 & GIRLS BASKETBALL 🏀 programs are teaming up to host a car wash fundraiser this Saturday, June 25th. The event runs from 10:00am to 12:00pm at Beech Grove High School. We hope you all can come by to get your car washed to help support our programs. We are so excited to have these programs working together! #Family #Together #Hornetproud 🧡🖤🏈🏀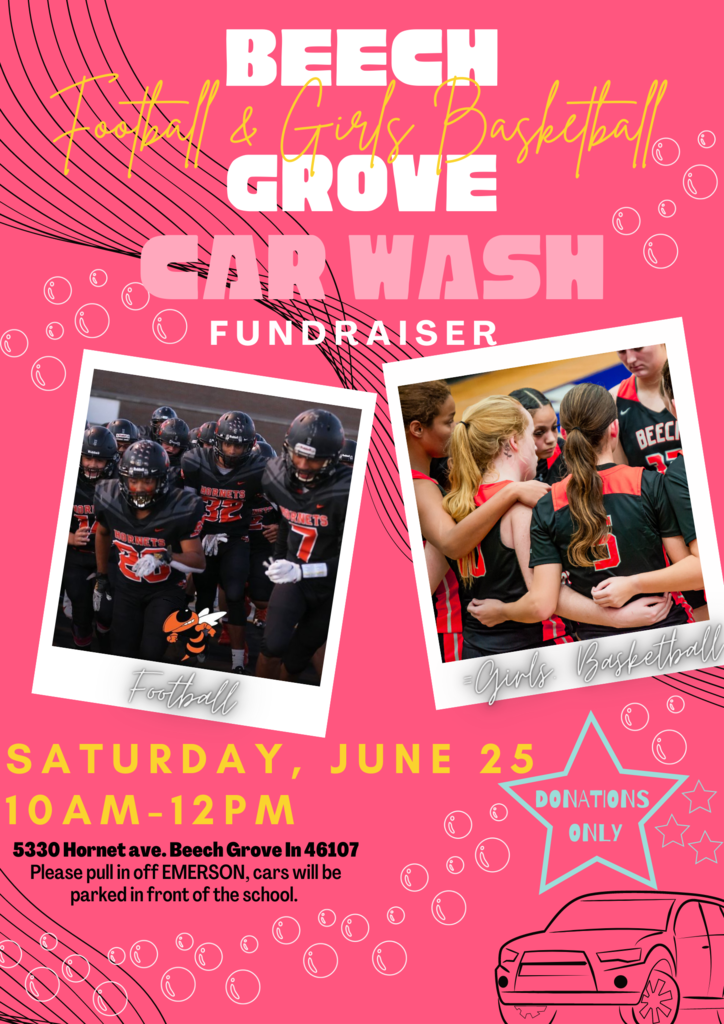 Reminder: our offices, as well as nonessential federal buildings and offices, will be closed today in observance of our newest federal holiday, Juneteenth. Juneteenth honors the end of slavery in the United States. To learn more, please click the link below!!
https://www.history.com/news/what-is-juneteenth
We will be back to normal hours on Tuesday!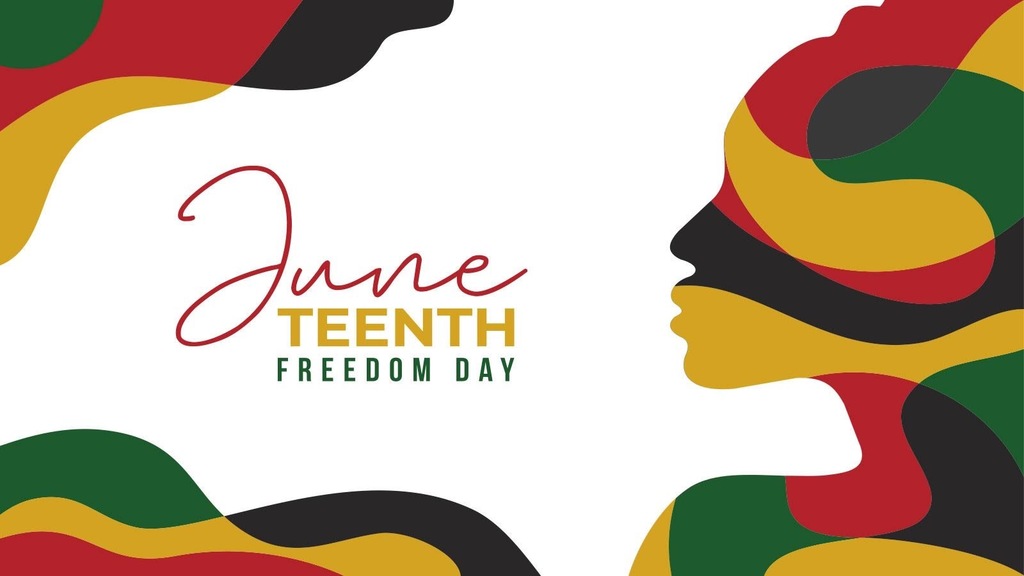 SAVE THE DATES!! More details to come, but save the dates for our BACK-TO-SCHOOL nights: Hornet Park: July 26th 4-6pm Central Elementary: July 26th from 4-6pm South Grove Intermediate: July 27th 5:30pm - 7:30pm Beech Grove Middle School: July 25th 4-7pm Beech Grove High School: July 25th 4-7pm