ATTENTION: Parents and Guardians, Please check your email for an important message outlining the changes to the previously implemented nationwide waivers for federally funded meal programs. See also the images below for more information. You can find the application link here:
https://www.myschoolapps.com/Application
For additional questions, please contact Dulcie Holcomb, Director of Dining at (317) 786-1447, ext. 8313 or by email at
dholcomb@bgcs.k12.in
. Have a wonderful weekend!!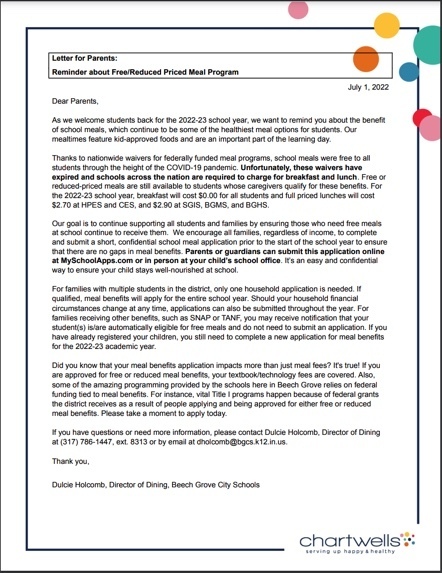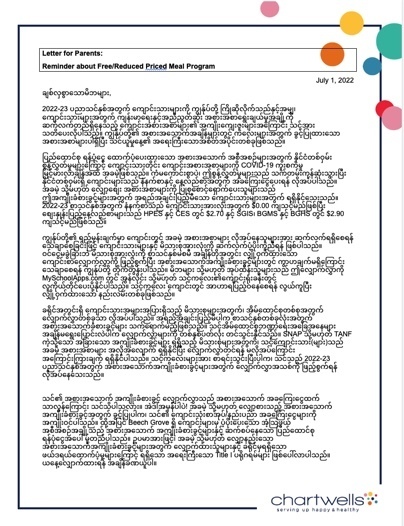 Yes, you're seeing this correctly.....a FREE wrestling camp for kids preK - 8th grade. Limited space is available so sign up today! #HornetProud #Family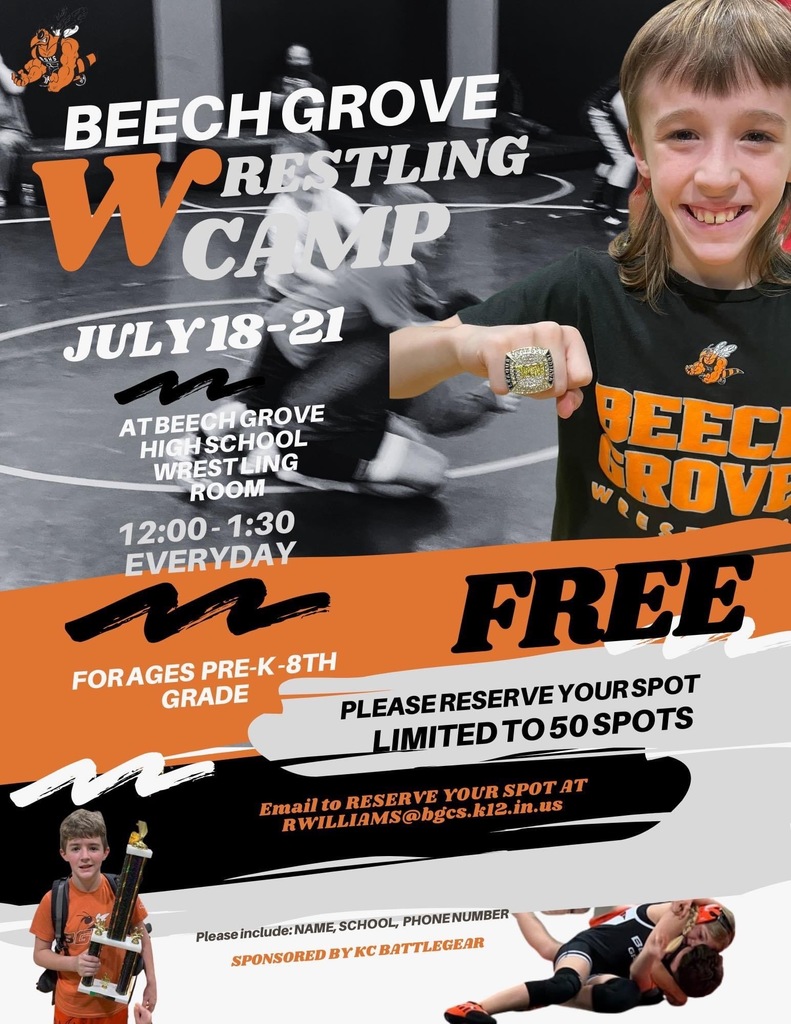 Here is an EXTRAORDINARY opportunity for us all to do our part in encouraging peace in our streets. Please mark your calendars TODAY!! #HornetFamily #ForOurKids
The FOOTBALL🏈 & GIRLS BASKETBALL 🏀 programs are teaming up to host a car wash fundraiser this Saturday, June 25th. The event runs from 10:00am to 12:00pm at Beech Grove High School. We hope you all can come by to get your car washed to help support our programs. We are so excited to have these programs working together! #Family #Together #Hornetproud 🧡🖤🏈🏀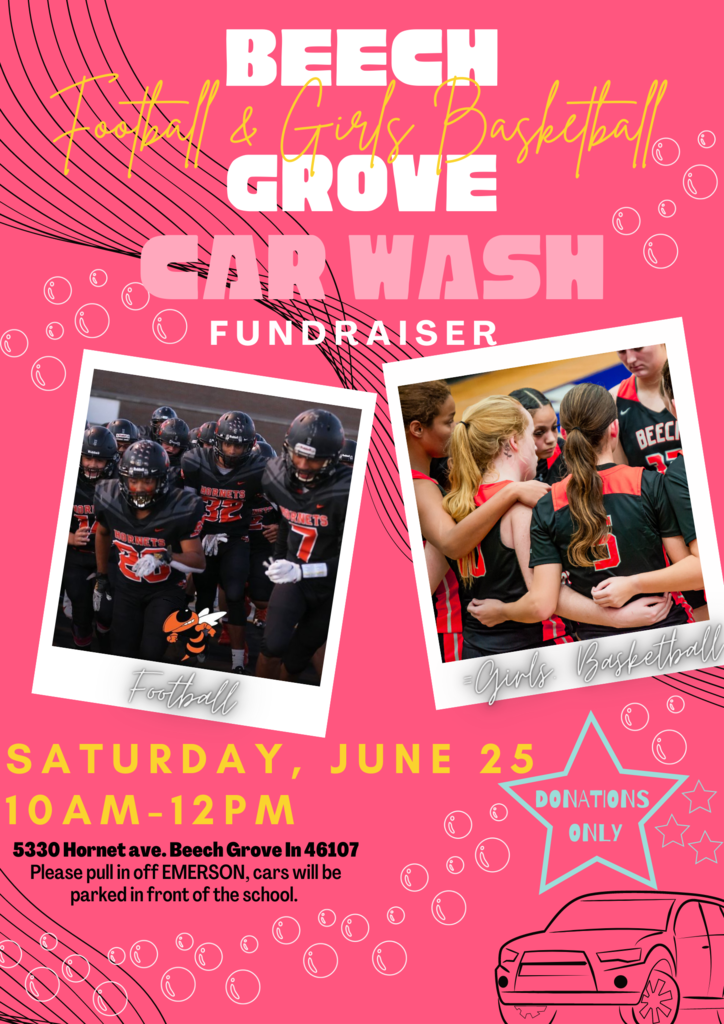 Reminder: our offices, as well as nonessential federal buildings and offices, will be closed today in observance of our newest federal holiday, Juneteenth. Juneteenth honors the end of slavery in the United States. To learn more, please click the link below!!
https://www.history.com/news/what-is-juneteenth
We will be back to normal hours on Tuesday!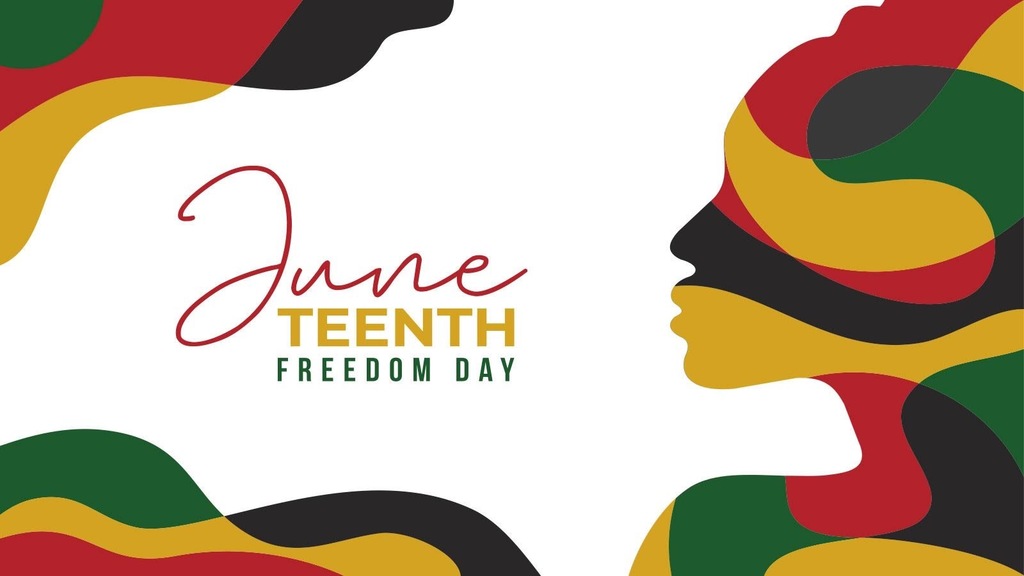 SAVE THE DATES!! More details to come, but save the dates for our BACK-TO-SCHOOL nights: Hornet Park: July 26th 4-6pm Central Elementary: July 26th from 4-6pm South Grove Intermediate: July 27th 5:30pm - 7:30pm Beech Grove Middle School: July 25th 4-7pm Beech Grove High School: July 25th 4-7pm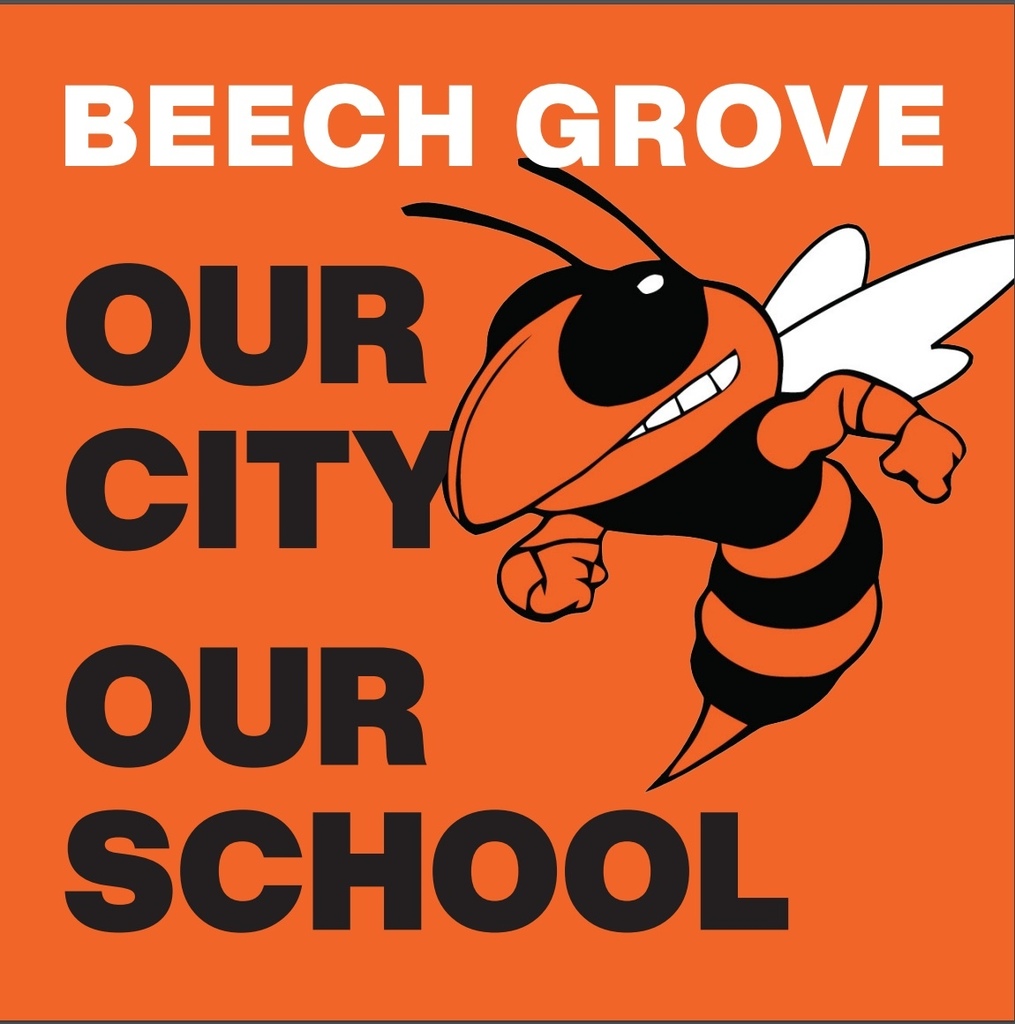 We are hiring substitute teachers! Please see the Kelly Services flyer for more information.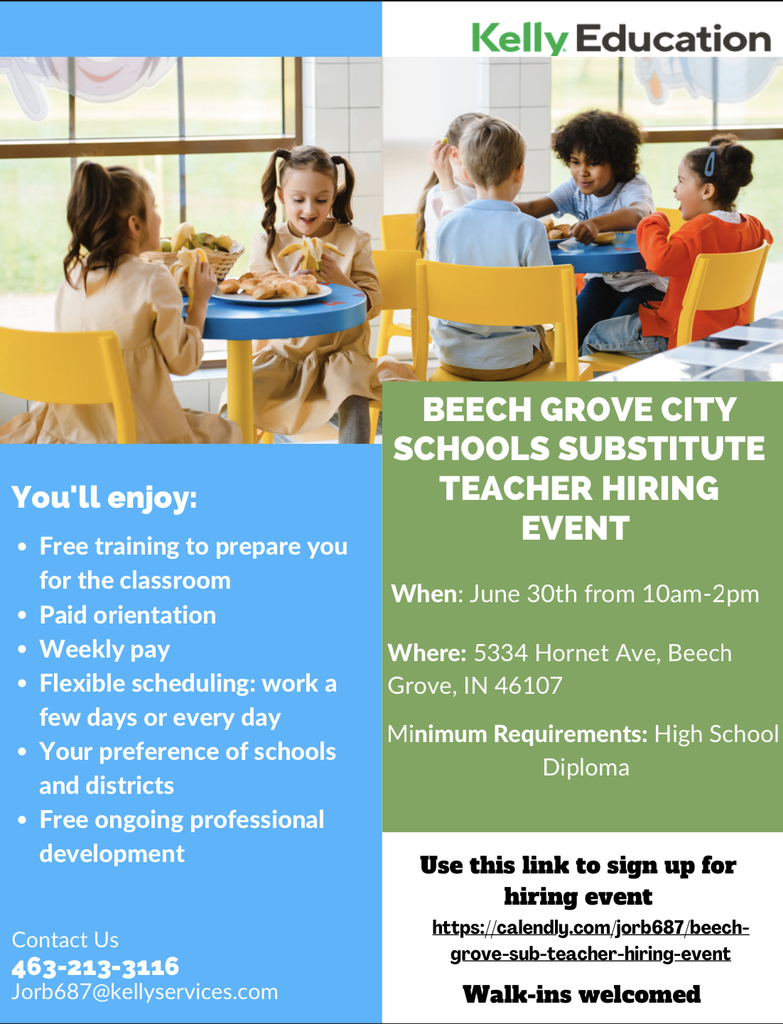 FREE lunch program for students 18 years and younger! Read flyer for more details including times and locations.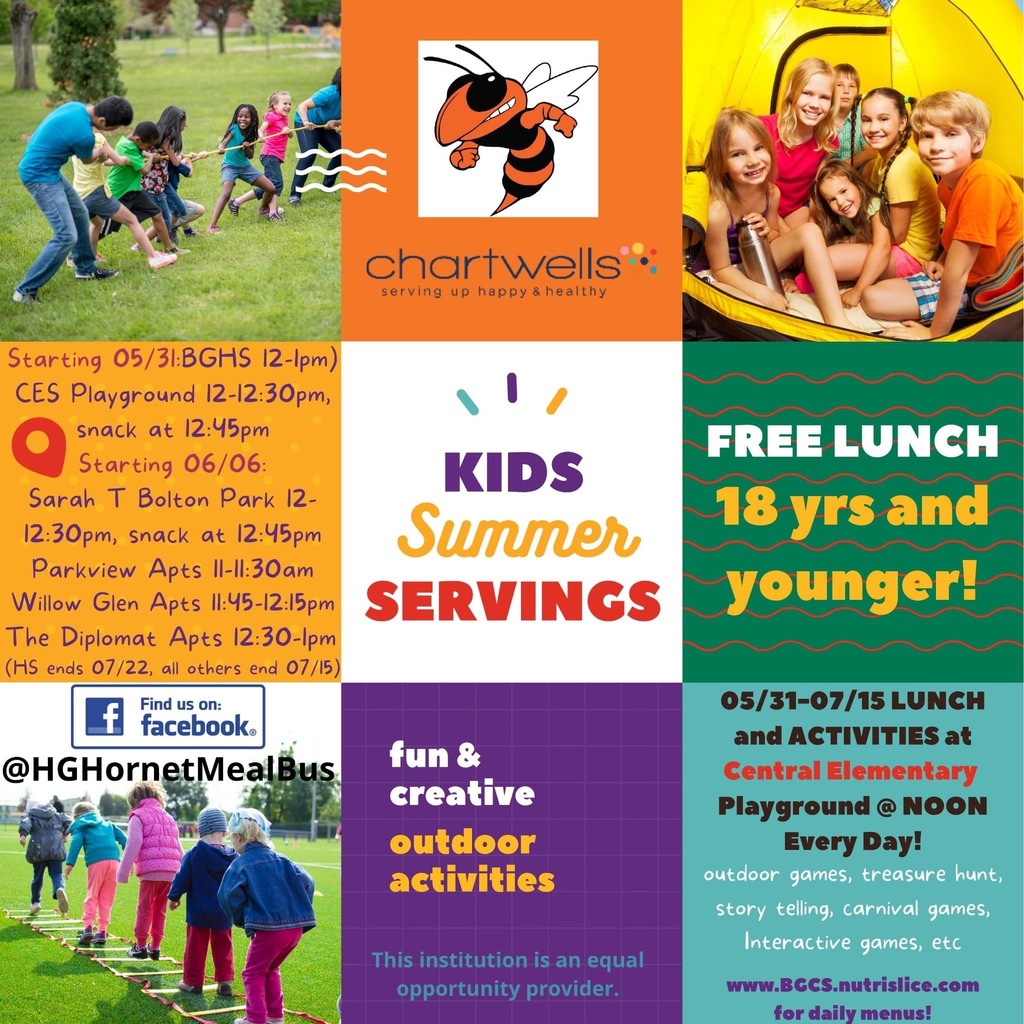 Today, Thursday, February 18, all Beech Grove schools are on a TWO HOUR DELAY.

Dear K-6 parents, Tomorrow, Wednesday, January 20, is an early release day.  Please remember:  EVERY WEDNESDAY is an early release day for our K-6 students (Hornet Park Elementary, Central Elementary, and South Grove Intermediate), EVEN IN A WEEK WITH A HOLIDAY.  This information is always included in our Hornet Blast newsletter, on our website, and on our district Facebook page, so please remember to access these communications weekly. Early Release Dismissal Schedule: Hornet Park:  11:25 a.m. Central Elementary:  11:25 a.m. South Grove:  12:05 p.m.

Today (Tuesday, December 1) is the first day of food delivery. We estimate that all food will be delivered by noon (subject to change). All food will be left on the front porch/front steps of your home for each delivery on Tuesday and Friday. If there is inclement weather, routes may be delayed. Please keep your walkways clear of snow/ice and salt, if slippery, for the safety of our delivery volunteers.

No food distribution today (Wednesday, November 18). Food distribution WILL take place tomorrow (Thursday, November 19) and provide meals for Thursday, November 19 through Tuesday, November 24. If you have not yet signed up for home delivered meals beginning Tuesday, December 1, please do so today!

Virtual/eLearning begins today for Hornet Park Elementary, Central Elementary, and South Grove Intermediate.

Parents: please be sure your students are following these guidelines. Thank you for your cooperation!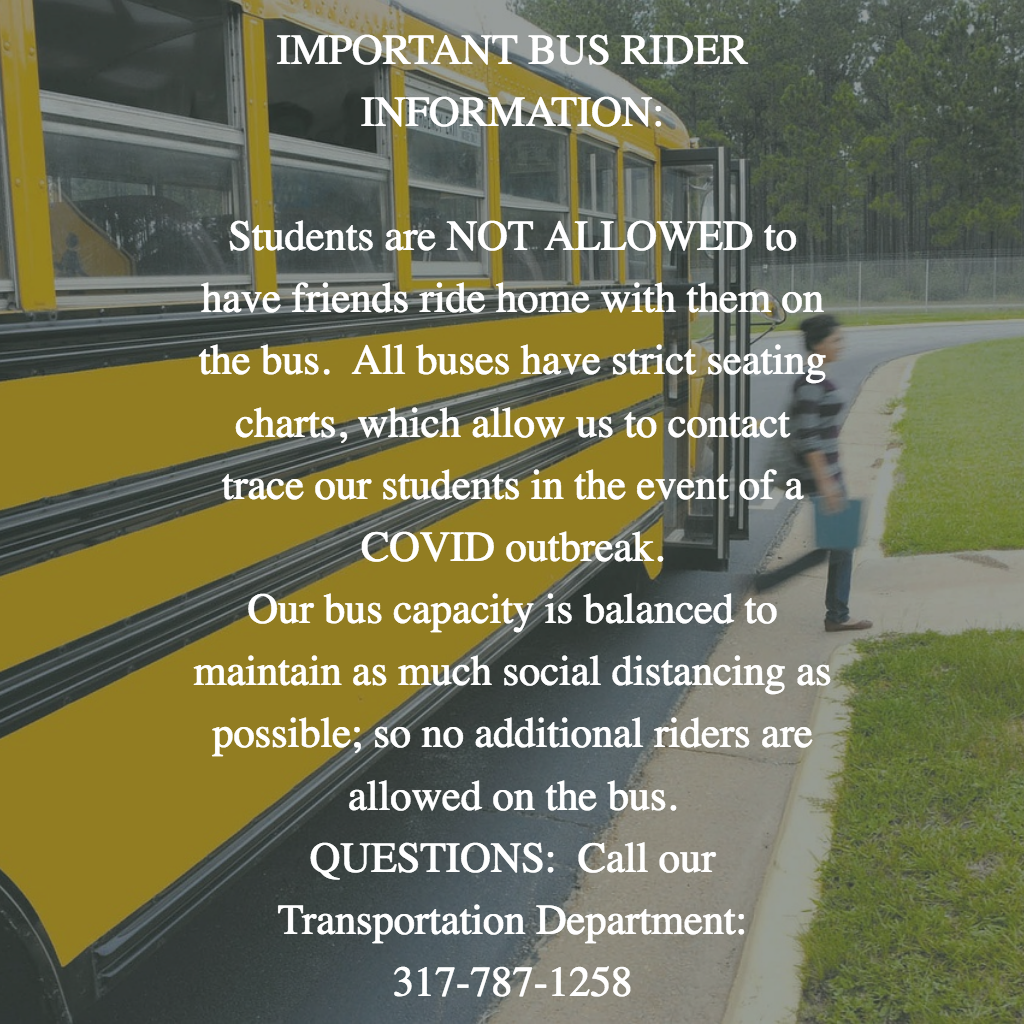 Our buses are running approximately 30 minutes behind schedule this afternoon. South Grove students are just now leaving the building to board their buses. We apologize for the delay. Thank you for your understanding!

Our buses have just now left South Grove. Middle school and high school bus routes are now running about 15-20 minutes behind. Thank you for your understanding!

Our Hornet Park and Central Elementary buses are just now unloading due to the thunderstorm. As a result, our South Grove, middle school and high school buses are running approximately 10-15 minutes late. Thank you for your understanding!