Today (Tuesday, December 1) is the first day of food delivery. We estimate that all food will be delivered by noon (subject to change). All food will be left on the front porch/front steps of your home for each delivery on Tuesday and Friday. If there is inclement weather, routes may be delayed. Please keep your walkways clear of snow/ice and salt, if slippery, for the safety of our delivery volunteers.

No food distribution today (Wednesday, November 18). Food distribution WILL take place tomorrow (Thursday, November 19) and provide meals for Thursday, November 19 through Tuesday, November 24. If you have not yet signed up for home delivered meals beginning Tuesday, December 1, please do so today!

Virtual/eLearning begins today for Hornet Park Elementary, Central Elementary, and South Grove Intermediate.

Parents: please be sure your students are following these guidelines. Thank you for your cooperation!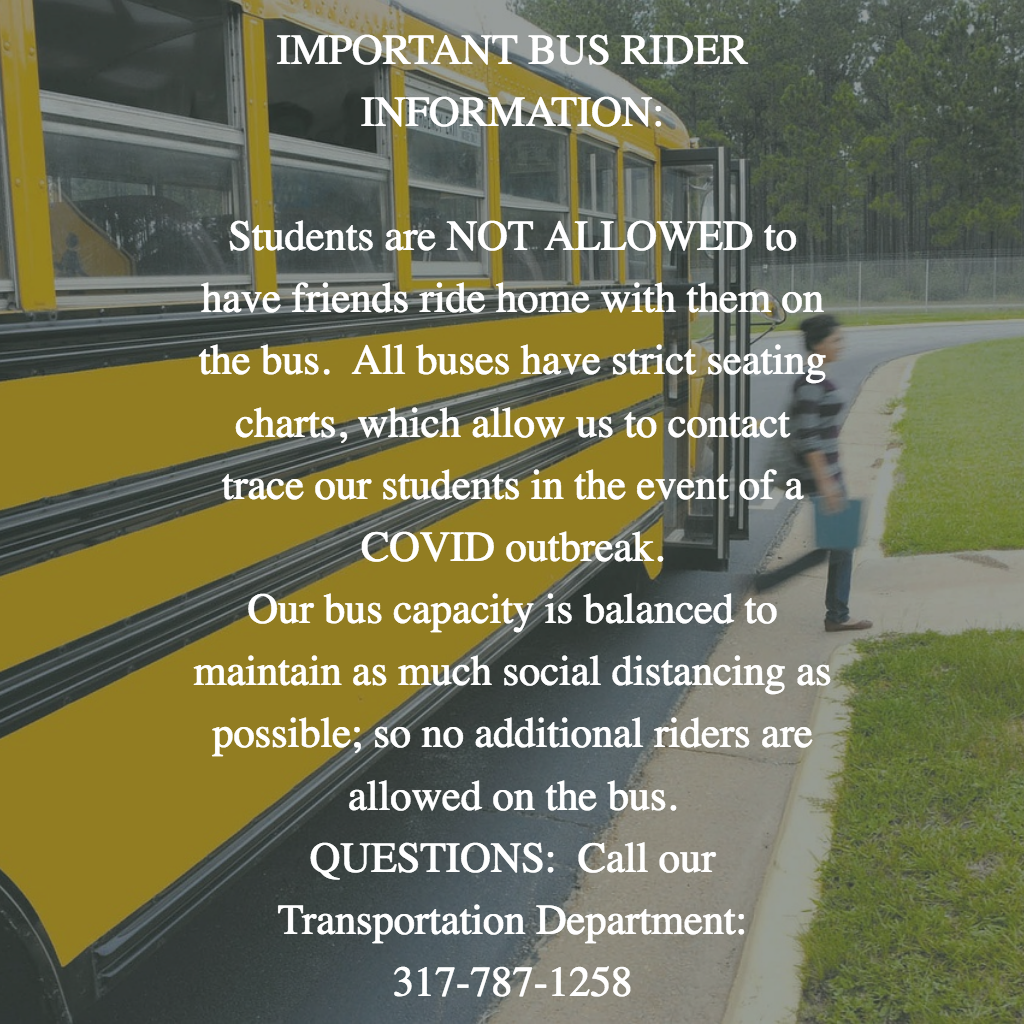 Our buses are running approximately 30 minutes behind schedule this afternoon. South Grove students are just now leaving the building to board their buses. We apologize for the delay. Thank you for your understanding!

Our buses have just now left South Grove. Middle school and high school bus routes are now running about 15-20 minutes behind. Thank you for your understanding!

Our Hornet Park and Central Elementary buses are just now unloading due to the thunderstorm. As a result, our South Grove, middle school and high school buses are running approximately 10-15 minutes late. Thank you for your understanding!


Hello Hornets! Bus #12 will be running bus #11 SG Route in the PM today. Students will be running about 5 mins late today. Thanks! Go Hornets!

Hello Hornets! Just want to let everyone know Bus #11 HP Route will be running about 10 minutes early today. We are having a HS driver run the route due to staffing issues this afternoon. Thanks for you understanding! Go Hornets!

Bus #3 for HP and SG will not be running for the PM route. Bus #7 will be running the HP students while bus #12 will be running the SG students. There might be about a 5 minute delay for both routes today.

All Beech Grove schools are on a two hour delay on Tuesday, December 17.

All Beech Grove schools are on a two hour delay today (Monday, December 16).


Registration will now be at the Hornet Park Community Center Room B. July 9th - July 11th from 10:00 - 7:00.


Congratulations to the Beech Grove High School Class of 2019!

From Coach Raker: Youth Camp begins next week! Walk-ins and registration on the first day are absolutely fine!

BGHS Seniors: don't forget our Class of 2019 drone photo on the football field today (May 31) at 11:30 am!

School will resume on July 31st! Please make sure to re-enroll July 1st - July 13th!